Modern archaeology can be quite frustrating, especially when viewed from the lens of unbelieving yet religious and devout diggers. There is an immense focus on pottery shards, bowls, and large wall-forming blocks, since that accounts for most of the ancient ruins. For places such as Jerusalem, pillaged and burned by the Romans in 70 A.D. then later bulldozed by the Arab Muslims, fragments of these are the most one could hope for. Thus, depictions of Jerusalem's Herodian temple and altars (below)[1] are aimed to determine the basic structural layouts, with meticulous drawings deduced from biblical texts, Jewish tradition and writings, and findings of detailed archaeological discoveries.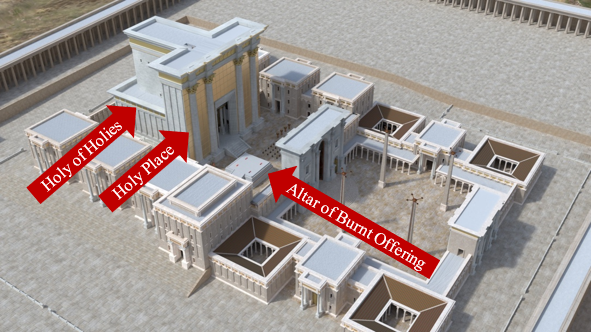 God's focus, however, was not so much on the structure as it was on the sacrifice. The building was the place where God's name was, and where the people through their mediator (the high priest) could meet with God to beseech Him for help. To do that, you had to have a sacrifice. It had to be a perfect yet bloody sacrifice.  It had to be in God's named place and time, at the hand of God's high priest who was born in the right family.  If anything was off, none of it was acceptable to God without appeal.
Frankly, the entire sacrificial system is rather bizarre when God is taken God out of the picture. Animal sacrifice is certainly not something entering my mind in the course of daily life. What, take my grand champion animal, then deliver it to a man dressed in white linen and lots of jewelry so he could kill it, take a bowl of the blood to sprinkle on a golden box while roasting the carcass over a bonfire? Outsiders would look at you and think you'd lost it. No wonder many view the Bible with skepticism, as the Scripture says:  The way of the wicked is as darkness: they know not at what they stumble.  They stumble at the word, being disobedient.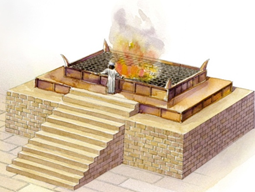 Believers know that none of this makes any sense until you see, know, and understand the living sign to which such activities pointed: Jesus is our paschal Lamb. Christ also hath loved us, and hath given Himself for us an offering and sacrifice to God for a sweetsmelling savour. You cannot come to God Who is a Spirit apart from Jesus' blood-atoning sacrifice on your behalf. God shall not be pleased with anything else you bring. Apart from Jesus, you will die the first and second death. This is why the old covenant was vitally important: it foretold of One to come, giving Abraham's seed hope for many years.
Now that Jesus has come (yea, rather, that is risen again), He is our hope, our high priest, our new and living Way, our life, our king, and our God.  Sacrifice and offering and burnt offerings and offering for sin thou wouldest not, neither hadst pleasure therein; which are offered by the law; Then said He, Lo, I come to do thy will, O God. He taketh away the first, that He may establish the second. By the which will we are sanctified through the offering of the body of Jesus Christ once for all.  Indeed, animal sacrifices today would be quite pagan.
Like this? Consider sharing it to Facebook by clicking the linked icon below.