In Judges 6 we read about Gideon, an Old Testament hero of faith who lived around 1,200 BC before the days of Israel's kings. Gideon was directly tasked by the Lord to destroy the altar of Baal in spite of being the youngest in his family. After Gideon destroyed it by night because he feared his father's household, and the men of the city, he invoked the wrath of the town. When they came out in protest (bring him out that he may die), the basis for his new name was given by Joash his father: Will ye plead for Baal? will ye save him? he that will plead for him, let him be put to death whilst it is yet morning: if he be a god, let him plead for himself, because one hath cast down his altar. Therefore on that day he called him [Gideon] 'Jerubbaal', saying, 'Let Baal plead against him'.
3,100 years later, and 27 miles southwest of Jerusalem, a 1-liter jug bearing his new name was found in strata dating to ~1,100 BC from the Khirbat er-Ra'i archaeological site.  It was found by excavators working under direction of Professors Garfinkel and Ganor (see photo below, with inset picture of the fragment), funded by the Israel Antiquity Authority.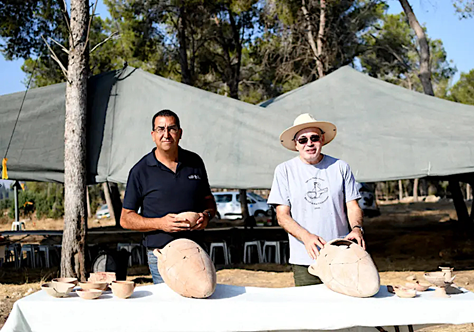 Hebrew University of Jerusalem professors Yosef Garfinkel and Sa'ar Ganor on site, Shahariya Forest, Judean foothills, 2019.  Of their find, they wrote: "The name Jerubbaal only appears in the Bible in the period of the Judges, yet now it has also been discovered in an archaeological context, in a stratum dating from this period."
It is highly rare and unusual for anyone to find any writing from the 12th to 11th century BC, so this is a big deal; so rare in fact, that most researchers don't even know what their alphabet looked like back then.  Previously some argued that the alphabet was unknown in that region, so there couldn't be any scribes, and thus the book of Judges was written much later –in the 9th century BC– which calls into question its reliability. Now we have smashing proof otherwise.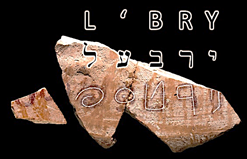 Epigraphic expert Prof. Christopher Rolston of George Washington University (DC) deciphered the fragment. The picture to the right shows the early Hebrew letters yod (broken at the top), resh, bet, ayin, lamed. Put together from right to left, you have Jerubbaal, Gideon's new name.  Professor Garfinkel noted this Jerubbaal inscription is the "only inscription that has been discovered from the time of the judges, and it also just happens to have the name of a judge on it. This is unbelievable."
Archaeologists cannot rule out that it actually did not belong to Gideon, in spite of the distance between where Gideon lived (30 miles north of Jerusalem) and the excavation site; however, it is clear evidence of a Biblical name in their day. It uses an early Hebrew word and letters consistent with the Early Iron Age. Evidently, the name Jerubbaal was in common usage at the time of the Biblical Judges.
Jerubbaal (Gideon) went on to defeat the Midianite army with 300 men using a trumpet in every man's hand, with empty pitchers, and lamps within the pitchers. Just as Gideon's jug-n-light approach pushed the marauding Midianites far away from God's people, so the use of his name written on a potsherd throws a powerful light for Biblical historical accuracy, trumpeting God's truth, and once again chases away every high thing that exalteth itself against the knowledge of God.
Sources: https://www.smithsonianmag.com/smart-news/3000-year-old-jug-holds-name-biblical-judge-180978159/, https://www.allisrael.com/did-archaeologists-find-gideon-s-jug-rare-inscription-bears-the-name-jerubbaal, https://armstronginstitute.org/5-gideon-the-judge-found-in-southern-israel. Deciphered photo: https://crossroadsbible.net/wp-content/uploads/2021/07/Jerubbaal-ostracon-1024x772.jpg
Like this? Consider sharing it to Facebook by clicking the linked icon below.