In-Person
In-person Worship services have been cancelled starting March 22, 2020. Attend our Virtual Worship Services online by clicking here.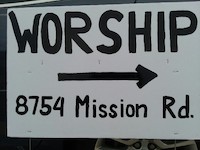 Sun. Worship: 11:00 a.m.
Children's Sun. School: 10:15 a.m.
Address: 8754 Mission Road, Jessup, MD 20794. (Enter the gravel road 100 feet west of Burkard Lane, marked by the 'Worship' sign shown to the left.)
If you are a first time visitor and have questions, or are wondering if inclement weather (snow or ice) might delay, postpone or cancel services, email us. Texting is usually the fastest; see Contact info, bottom of the home page.