Scripture says that in the mouth of two or three witnesses shall every word be established. Archaeologists tend to make great ado about a few shards of pottery, but they really get excited when they discover ancient writings. Imagine the excitement at two tiny yet stunning finds near the temple in Jerusalem, at a location called the Ophel (see map below), when two clay seals ('bulla') bearing the inscriptions of King Hezekiah and Isaiah the prophet, were harvested in 2009. Famed archaeologist Eilat Mazar carefully examined over 30 bullae, yet when these were viewed in microscopic detail in 2014, their true significance exploded. A professional archaeologist of over 50 years, she calls it the greatest discovery of her life.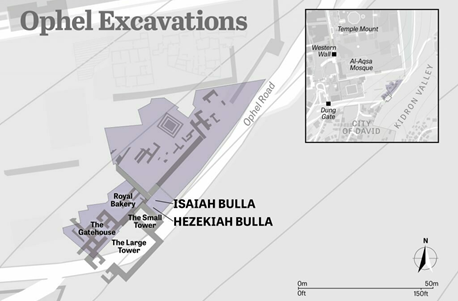 Hezekiah's bulla, used to seal authoritative writings with wax- impressions, is a remarkably clear testimony to Hezekiah's existence.  Very little is missing from the seal, and the Hebrew phrase "Belonging to Hezekiah, son of Ahaz, King of Judah" is readily extracted (see picture).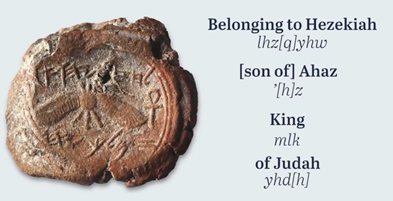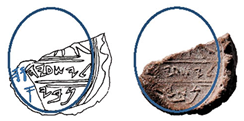 Isaiah's bulla (pictured right) suffers more damage, though insightful portions remain.  The last letter in the middle section is missing, yet the only option to end the word renders it "Isaiah." This part of the bulla is undisputed and clear.  It's the last line that causes a stir.
The third lower section reads nvi', which either means "son of Novi," or when supplied a missing letter reads nuvi'a meaning "prophet." Could this be the Isaiah, or some second-class Jew living on the city wall?  Although Isaiah is a relatively common name at that time, it is highly unusual for a private citizen to own a bulla. The ellipse of the seal indicates ample space for the missing letters to form "Isaiah the Prophet."  Note that it is rare to leave blank spaces in a 1-cm seal.
Isaiah the prophet wrote during the reigns of Uzziah, Jotham, Ahaz, and Hezekiah.  Hezekiah benefited from Isaiah by receiving over 25 chapters of prophecy during his 29-year reign. There are 15 verses where both men appear in the same verse.  Thus, it is not improbable that artifacts from the two might be found together – at the right depth and layer, in the same time period, 1 meter apart. [1]  They being dead yet speaketh, and that, with their authoritative seals for us to find!
Like this? Consider sharing it to Facebook by clicking the linked icon below.