In an earlier missive, you read about the struggles and challenges involved with promoting proper blueberry fruit growth. Since the first berries ripen around the first of June, this is an ideal time to update you on whether or not the pruning efforts actually worked. It appears that they did, as evidenced in the picture below taken June 11th.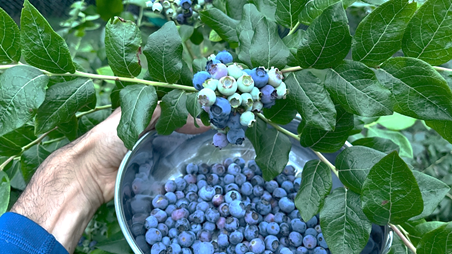 Firstfruits of the "Bluecrop" variety of blueberry, after its second year of heavy pruning, and in its 10th year of production.  The year prior, the blueberries were as small as BB's.  Heavy pruning concentrates the plant's energy towards relatively fewer -but larger- berries.
What you see are the first fruits of a nice crop of blueberries at the top of my formerly spindly plant. By cutting out the weak and smaller branches (whips) that sapped the plant's energy, a greater concentration of nutrients went to berry-producing laterals.  This yielded larger berries, even at the top of a 5-foot plant. Thus far, the plant is on track for a bumper crop of nice market-grade produce, not the tiny useless berries as before.  Throughout this process, I'm reminded of some important spiritual lessons.
It is taught in scripture that, in the church of God, pruning is a necessary function. When some individuals, let's call them the seed of the wicked, are sown (i.e., appear, or creep) in the midst of the brethren, they may look like fruit-bearing people, but they only serve to distract, pick on, or eat up the faithful. Bouncing from one crisis to the next, the ministers of God's word cannot focus on feeding the flock; and as a result, you are left with anemic Christians. This isn't healthy for the church, for you, or the minister as it tends to burn him out.
As harsh as it may sound, such need to be cut out. I believe this is the spiritual thrust of what Jesus means when He said: And if thy right eye [or right hand] offend thee, pluck it out, and cast it from thee: for it is profitable for thee that one of thy members should perish, and not that thy whole body should be cast into hell.  Jesus is not teaching self-mutilation, as your hand does not operate apart from your will; you'd have to cut out your brain along with your hand to affect any real change, if we are to understand this physically.  Paul wrote: for as the body is one, and hath many members, and all the members of that one body, being many, are one body; so, Jesus is speaking about the church.  These offenders need to be confronted, and given space to repent.  If it bear fruit, well: and if not, then after that thou shalt cut it down. Paul told a church to deliver such an one unto Satan for the destruction of the flesh, that the spirit may be saved in the day of the Lord Jesus.    
Spiritual pruning is directed throughout scripture. (Proverbs 22:10) Cast out the scorner, and contention shall go out; yea, strife and reproach shall cease.  (Romans 16:16-17) Salute one another with an holy kiss. The churches of Christ salute you. Now I beseech you, brethren, mark them which cause divisions and offences contrary to the doctrine which ye have learned; and avoid them. Notice Paul's contrast.  Some you kiss, and some you dismiss.  John wrote of a rather extreme case:  (3John 1:9-10) I wrote unto the church: but Diotrephes, who loveth to have the preeminence among them, receiveth us not. Wherefore, if I come, I will remember his deeds which he doeth, prating against us with malicious words: and not content therewith, neither doth he himself receive the brethren, and forbiddeth them that would, and casteth them out of the church.
Pray that God would keep our "church garden" free and clear of fruit-robbing weeds and bad branches. Herein is my Father glorified, that ye bear much fruit; so shall ye be my disciples.
Like this? Consider sharing it to Facebook by clicking the linked icon below.