After Solomon built the temple, he held a dedicatory prayer meeting which we read about in 1 Kings 8. Prior to its destruction, visitors noted its stunning beauty and sought to replicate it back home. "From the rubble-filled courtyard in the foreground to the shrine room in the distance, the ancient temple at 'Ain Dara, Syria, is our closest parallel —in size, date and design—to the Temple built by King Solomon in the tenth century BC. Beautifully preserved despite fire damage and massive looting (for many years, the remains served as a quarry for local builders), the Syrian temple allows us to visualize Solomon's Temple that was utterly destroyed by the Babylonians in 586 BC."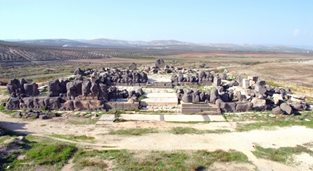 The 'Ain Dara temple ruins in Syria as found until Jan. 2018 when Turkish warplanes destroyed over 60%.
"Located on the fertile eastern bank of the Afrin River, in northern Syria, ancient 'Ain Dara was discovered by chance in 1954, when a shepherd exploring a fox's den stumbled across a sculpted lion's head. Archaeologists immediately recognized the lion as part of a city gate. Further exploration led to the discovery of a 6,000-year-old upper and lower city. Built on the highest point of the tell, the temple (dating from 1300 to 740 B.C.E.) was fully excavated in the 1980s but has received little attention since—despite its correspondences with Solomon's Temple. ... The temple has received almost no attention in this country, at least partially because the impressive excavation report, published a decade ago, was written in German by a Syrian scholar and archaeologist." [1]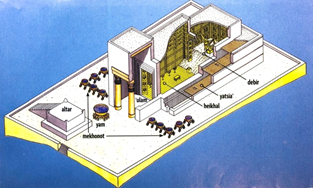 Model of Solomon's Temple, by Leen Ritmeyer. based on the biblical data in 1 Kings chapters 6-7.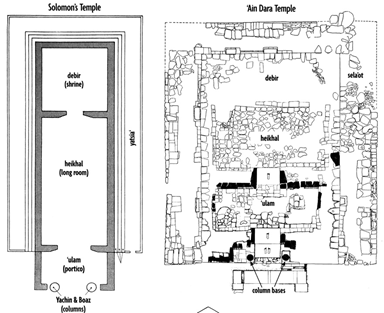 Comparative temple layouts, from Biblical Archaeology Review, Mar/Apr 2011, pg.50.
Though there are structural similarities, there are fundamental differences which accentuate true versus false worship. For instance, 'Ain Dara incorporates elements of a mobile divine throne on a chariot, with various men and creatures supporting the base. Solomon's Temple symbolizes a divine presence with man, fully realized only through regular atoning sacrifices. The Holy Ghost this signifying, that the way into the holiest of all ... was a figure for the time then present, in which were offered both gifts and sacrifices, that could not make him that did the service perfect, as pertaining to the conscience; which stood only in meats and drinks, and divers washings, and carnal ordinances, imposed on them until the time of reformation. But Christ being come an high priest of good things to come, by a greater and more perfect tabernacle, not made with hands, that is to say, not of this building; neither by the blood of goats and calves, but by His own blood He entered in once into the holy place, having obtained eternal redemption for us. Men truly cannot copy God's imagery correctly!
Like this? Consider sharing it to Facebook by clicking the linked icon below.